It is almost November. And, yes, I'm doing NaNo again. I did it last year and, while it was a challenge, I learned so much and couldn't help but to do it again. The reason I'm doing it is exactly the same reason I did it
last year
. I love the community of it. I feel inspired by it. I mean, we're human and we need story to survive, so why not go crazy with story for one month. I love it!
I'd love for you to join me if you're doing it this year. Here's a link to me.
You can follow my progress there. Last year I wrote THE ART OF MAKING STARS, which is a contemporary YA romance. This year I'm going with a YA science fiction. I'm really excited about this new book. It's called BEFORE EARTH. Here's the pitch (which will, I'm afraid, probably change a lot because I'm a pantster):
Seventeen-year-old Meg Williams is totally pissed off when her dad invites a vagrant named Damon to live above their garage. It doesn't help that he ends up in her physics class at school the next day. Although, she has to admit, his army green Chuck Taylors are pretty hot. But when Damon tells her he's from Mars, she knows he's more than weird, he's psycho.
Then NASA discovers something on Mars, something that freaks the world out: An exact replica of The Statue of Liberty, lying on its side, half covered in rusty Martian dust. While scientists, militaries and world leaders scramble to find answers, Meg goes to the only person who actually knows the truth: Damon.
Damon explains he is an ancient Martian from a prehistoric green Mars, which is slowly turning to the silent red-desert-planet we know. In desperation, the advanced inhabitants of Mars have opened up portals through time and space and are slowly emigrating to different time periods on Earth.
To convince Meg, Damon takes her through a portal to the dying Mars and, while there, she sees something strange. Something that could change the history of Earth, erasing her existence and everything she knows.
It's up to her and Damon to figure out how to save the Martians while attempting to maintain the now fragile history and population on Earth.
Doesn't it sound exciting! Unlike THE ART OF MAKING STARS, this book actually has a plot! We'll see if I can pull it off!
Here's an image that is TOTALLY part of this book: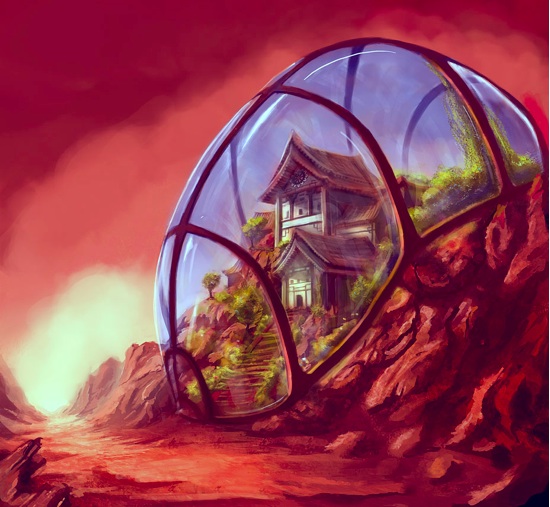 Isn't it dreamy! I LOVE it.
Here's a tentative cover:
So. Are you doing NaNo? If so, why are you? I'd love to hear! Also, let's be NaNo buddies!